On Saturday, September 11, 2021, DRRT's Director and Assistant Managing Partner, Joseph Gulino spoke at the Cambridge International Symposium on Economic Crime.
Mr. Gulino participated in a panel titled "What is a just expectation for whistleblowers, and how can we best achieve it".
Mr. Gulino joined a wonderful list of speakers on this session including: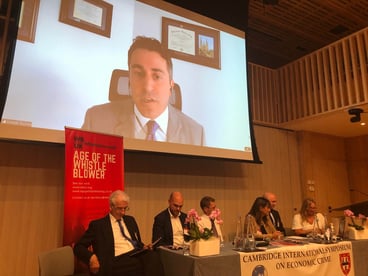 Mr. Kevin Hollinrake MP, Member of Parliament and Joint Chair, All Party Parliamentary Group on Banking, House of Commons, UK

Mr. Martin Bright, Founder and CEO, Creative Society, UK
Mr. Andy Noble, Head of Whistleblowing, Speak Up and Complaints Policy Compliance and Conduct, NatWest Group, UK
Mr. Jonathan Taylor, Whistleblower, UK
Mr. Paul Dowling, Partner, International Civil Litigation, Leigh Day Solicitors, UK
Mr. Paul Milata, Founder, Nemexis, Germany
Ms. Lindsey Rogerson, Senior Editor, Financial Regulation, Thomson Reuters, UK
Ms. Melanie Devoe, Attorney advisor , Whistleblower Office, CTFC, USA
Ms. Carolyn D'Souza, Barrister at 12KBW Law Firm, UK
DRRT's participation at the Symposium alongside thought leaders, further cement DRRT's support for the information provided by whistleblowers and the importance this can have in securing investors rights in free markets.